---
A video art project constructed around the artist's southern roots and the associated imagery of old fashioned baptism as practiced by his ancestors
baptism suite explores the role of history, religion, and family and how those forces have often opposed kurtis's identity as a queer artist. The core of the project consists of several video works, ideally simultaneously projected in a dark room with surround sound in order to create an immersive and multimedia experience.
speak of the dead (2014/2015)
high definition video, stereo sound, 2 min 47 sec
baptism i, 1941 / baptism ii, 1941 (2017)
digital photos
baptism (2015/2016)
2 channel high definition video, 5.1 surround sound, 2 min 56 sec
creek (2015/2016)
high definition video, stereo sound, 1 min 17 sec
swimming hole (2015/2017)
digital print of original text
baptism (2013)
video, silent, 3 min 56 sec
baptism, ii (2013)
video, stereo sound, 1 min 18 sec
---

A multimedia project exploring how an historical medium can have new resonance for contemporary audiences
Artist's Statement
Crayon Portraiture. is a multimedia and interdisciplinary body of work that draws from aspects of my previous INTERSECTION, muse, and Jordan's Journey projects and, like those projects, incorporates photography, writing, design, appropriation, and video. The layering of humanity and technology is the core focus of the series, drawing upon the crayon portrait medium as an example of how technology and our use of technology has and will continue to evolve. By combining historical and antique imagery with contemporary digital processes, I'm able to shed light on the role of technology in the interpretation of history and probe questions about how technology and humanity interact and overlay upon our everyday lives. Ideas are the basis of my practice. My diverse techniques and methods are evident in this body of work, which is rooted in thought and writing. —luke kurtis
A delightful synergy of familial and literary influence
Ashley Elizabeth Hudson
Editor of Palaver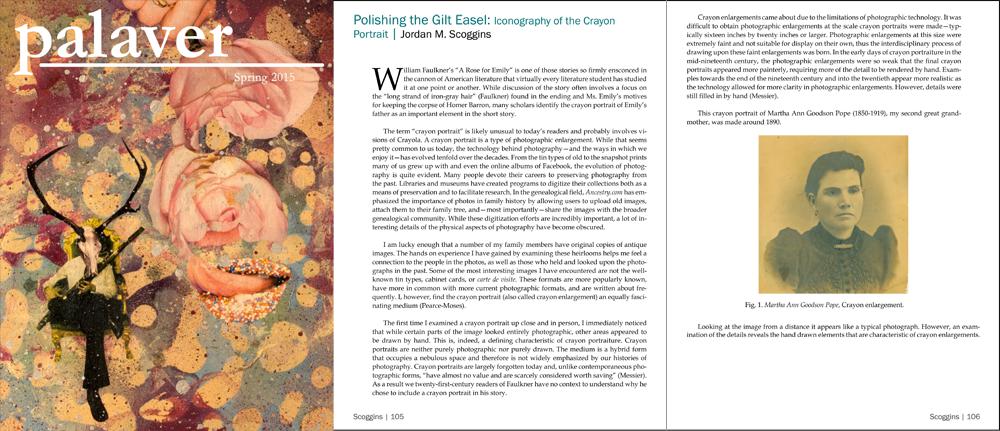 An original essay by the artist, titled "Polishing The Gilt Easel," is the cornerstone of this project. It was first published in
Palaver
, the digital interdisciplinary journal from University of North Carolina at Wilmington. It appeared in print in a slightly edited form in
Georgia Backroads
as the fourth in his series of original pieces for the journal. In his essay the artist combines literary analysis of the use of the crayon portrait in William Faulkner's "A Rose for Emily" with historical research on the crayon portrait medium itself and personal/genealogical storytelling to reflect upon the significance of photographic images in weaving such narratives.
Note: "Polishing the Gilt Easel" incorporates elements of the artist's family genealogy and therefore is published under his given name, Jordan M. Scoggins. The Crayon Portraiture. project as a whole, however, is not genealogy-specific and is under his usual artist name, luke kurtis.
Breathtaking in its simplicity
Michael Harren
Composer & Performer
the woods are watching video documents the artists's installation art project of the same name. This environmental work uses the artist's earlier genealogy-rooted work as a counterpoint to engage with his ancestral landscape and explore the connection between humans, technology, and nature.
You should choose a room with a north light if possible; if that is not available then one with a south light, and the room should be as near the top of the house as possible. Let the light be arranged so as to strike the easel at an angle of 90 degrees, and if it is a side light darken the lower half of the window.
Jerome A. Barhydt
on how an artist should select the ideal studio for crayon portraiture, from his book Crayon Portraiture (1892)
This series of prints, based upon illustrations from Jerome A. Barhydt's book Crayon Portraiture (1892), reflect the technical process—the technology—once used to create crayon portraits. Everything from the necessary supplies and tools to the requirements for the artist's physical studio space are very particular and unique to the antique medium.
---
---

Over a decade of work by one artist responding to a national tragedy in a very personal way
The Language of History is a body of work by luke kurtis created in response to the tragedy of 9/11. Spanning the years 2001 to 2014, selected work from this series was curated and presented in an intimate exhibition at the Jefferson Market Library in New York City from 6 Sep to 4 Oct 2014. The exhibition featured photography, writing, artist's books, and other work by the artist. The artist's Langauge Tiles were created as a site-specific installation to complement the Tiles for America project which is permanently installed in the library.
A catalog was published by bd-studios.com and features an introduction by artist and Bushwick Art Crit Group founder Christopher Stout.
"kurtis is certainly looking for something additive to the traditional documentary narrative, and through [The Language of History] suggests a careful memorialization and honor to the living, and the dead, and also notably to the human process of grief."
—Christopher Stout, Artist & Founder of Bushwick Art Crit Group
---
Featured products
Mailing list