Cyber Blade group show curated by Rick Villodas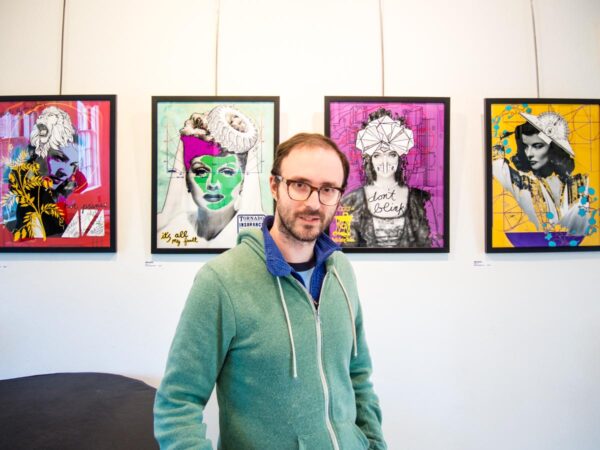 This past weekend I showed some work from my muse series for the first time since last year. Rick Villodas, who first saw my muse prints in the Just Panic… show, curated the Cyber Blade show. He selected some of the works that were in Just Panic (muse no.'s 7, 11, and 12) along with muse no. 18, which had never been shown before. It was just a weekend pop-up show but I was able to make it up to Danbury that Sunday. It was refreshing to get out of the city for an afternoon (even though it was a bit cold–the venue's furnace was out that weekend)! Above is a photo of me with my work (photo by Matthew Cales).
Rick also showed collaboration, a work he and I created together! Last summer when he came to Just Panic, I was handing out copies of my INTERSECTION zine (issue no. 5). It was a rainy night and by the time he got home, Rick's copy of my zine had been ruined. He snapped a photo and sent it to me, asking if I could send him a replacement some time. Of course I did… but I also thought the wrinkled and damaged zine looked interesting and suggested he do something creative with it. Taking a page from Yoko Ono, I've always felt my own work is "unfinished" and that any other artist should be able to pick it up and and run with it… transform it… complete it. This is what Rick did! I'm absolutely in love with how it turned out… and I'd love to see more of you run with this idea.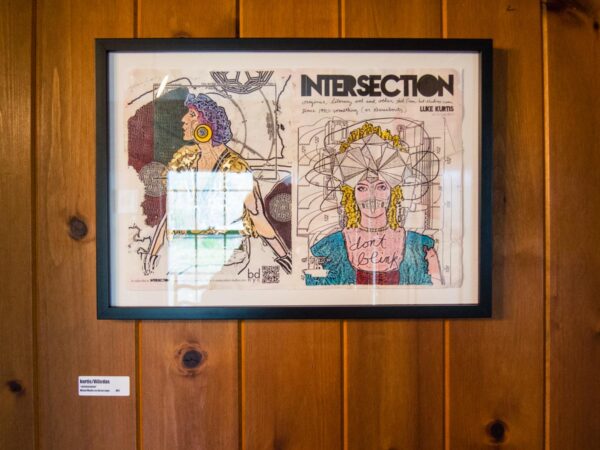 Cyber Blade
a group art show curated by Rick Villodas
The Stanley L. Richter Association for the Arts
100 Aunt Hack Rd. Danbury, CT
April 25-27
Opening April 25, 5pm-8pm
April 26 & 27, 2pm-5pm