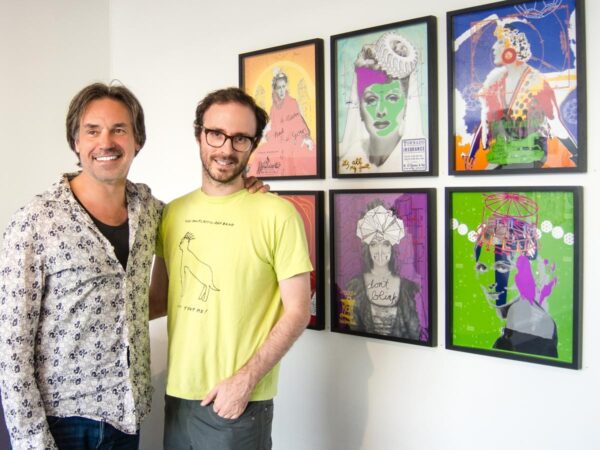 August was a busy month for me (hell, it's been a busy year with no signs of things letting up any time soon). I thought I would round up a little update here with a sampling of my going-ons this past month.
I showed work from my muse series at a new gallery in Putnam, CT. I was very happy to be part of The Empty Spaces Project's debut exhibition, curated by Paul Tousaint. It's an excellent gallery space with beautiful light. The town of Putnam is delightful and artsy (and boasts northeastern Connecticut's only sushi bar).
The Empty Spaces Project is getting quite a bit of much-deserved attention. Connecticut Governor Daniel P. Malloy came to visit the gallery and can be seen here in front of my work. The exhibition was written up in several newspapers including ReminderNews and the Putnam Villager. The state of Connecticut even photographed the show to include in the state's tourism promotional materials for 2014!
Other artists in the show were Dawn Cook, Kim Curtin, Susan Lizee LaPalme, Cat Morris, Audrey Mucci, Ian Sklarsky, and Paul Toussaint. What a talented group of folks and I was honored to be part of it.
In other news, my fellow New Lit Salon Press co-founder and creative collaborator Brian Centrone appeared on Lichen Craig's Fireside Chat podcast (among a host of other promotional appearances lately). It was a great chat and he talked about his collection I Voted for Biddy Schumacher (New Lit Salon Press)–which features my photography–as well as his novel, An Ordinary Boy (Seventh Window Publications). If you haven't seen the promotional photography I did for An Ordinary Boy you can check that out over at Behance.
On the Jordan's Journey front (be sure to follow the JJ blog to stay up-to-date on that project), my article "We Are One People" appears in the current issue of Georgia Backroads (Autumn 2013). I love this article. It's one of the best I've ever done. Please check it out if you have a chance. Individual issues are available for purchase directly from Georgia Backroads and it's a very high quality publication.
Well, that's about it for now. I hope you had as good an August as I did!