John Cage at MoMA: There Will Never Be Silence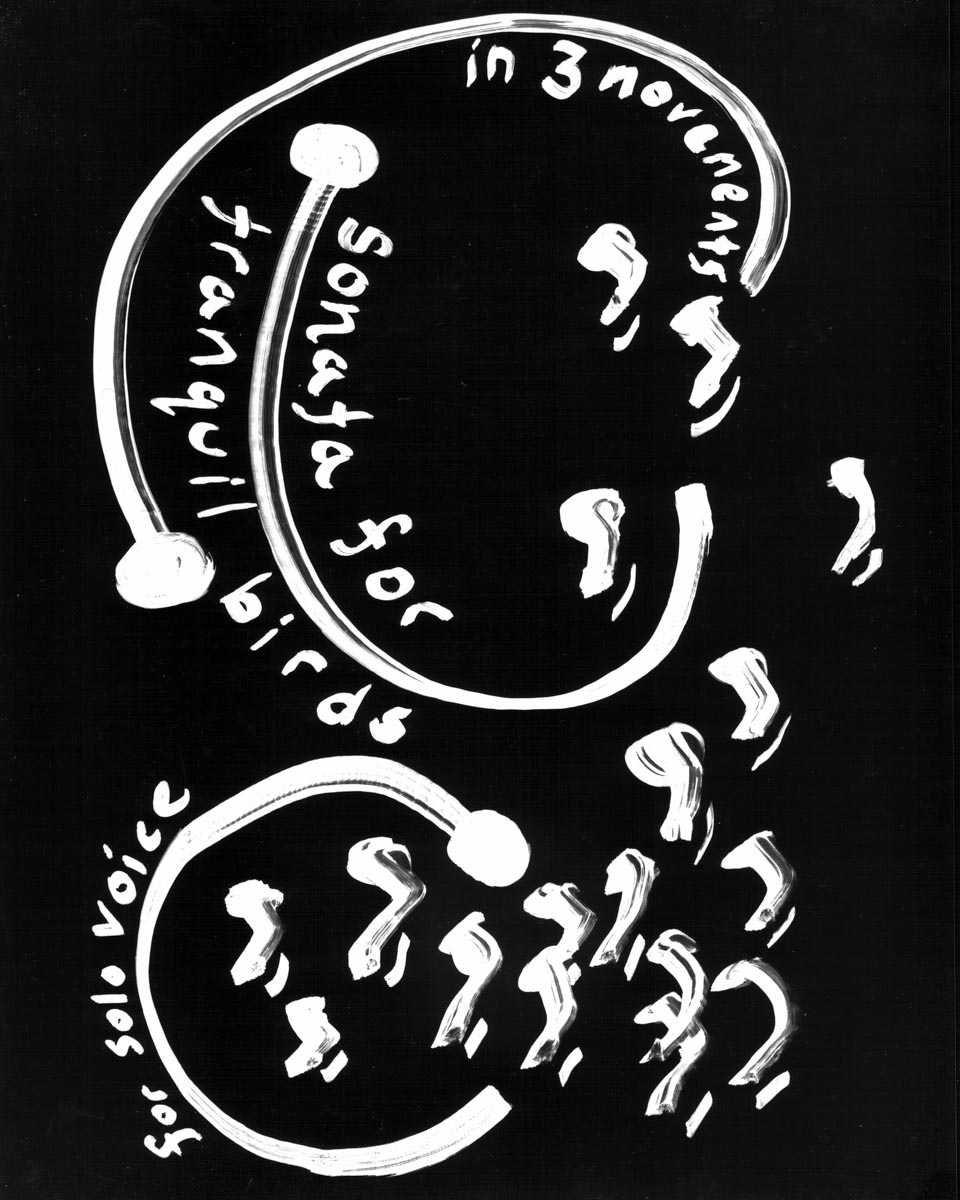 There Will Never Be Silence: Scoring John Cage's 4'33″ is a small show of work by artists influenced by John Cage's "silent" piece. Cage's influence is no doubt immense. I count him upon my own pantheon of artist "gods" who guide my way. It's no surprise then that a certain Cageian influence can be found in my work, ranging from the recently-published "toilandtrouble" text to my photogram sonata for tranquil birds for solo voice in three movements (2001), pictured above. Like many of the works in the show at MoMA, my sonata is both visual art and music/performance score.
Most recently, in INTERSECTION no. 9 (Nov 2013) I pin-pointed Cage's–in fact, 4'33"'s itself–direct influence over my own work:
the ideas of John Cage (4'33″ taught me to think beyond the mainstream boundaries of "what is art"), Yoko Ono (her statement that "message is the medium" was a revealing reversal of McLuhan's more-famous concept), and Steve Reich (when i met him in 2002 i thanked him for Different Trains and told him—very sincerely—how the work changed my life) propelled both my practice and research towards new ideas of what art could be.
Of course, I was pleased to find two of Ono's works in There Will Never Be Silence as well. Her Pieces for Orchestra to La Monte Young (1962) and the original edition of Grapefruit (1964) were on display. The show also included An Anthology of chance operations, concept art, anti art, indeterminacy, plans of action, diagrams, music, dance constructions, improvization, meaningless work, natural disasters, compositions, mathematics, essays, poetry, a book work with pieces by Cage, Ono, and numerous others.
Unfortunately, photography is not allowed in the exhibition so this photo of the title as you enter the gallery (below) is the extent of what I can show you. But if you are like me and have an immense love of all things Cage (and Cage-inspired), this show is not-to-be-missed.
There Will Never Be Silence: Scoring John Cage's 4'33″
October 12, 2013—June 22, 2014
Museom of Modern Art
11 West 53 Street New York, NY 10019