American Aesthetics 🎆 🇺🇸 🎇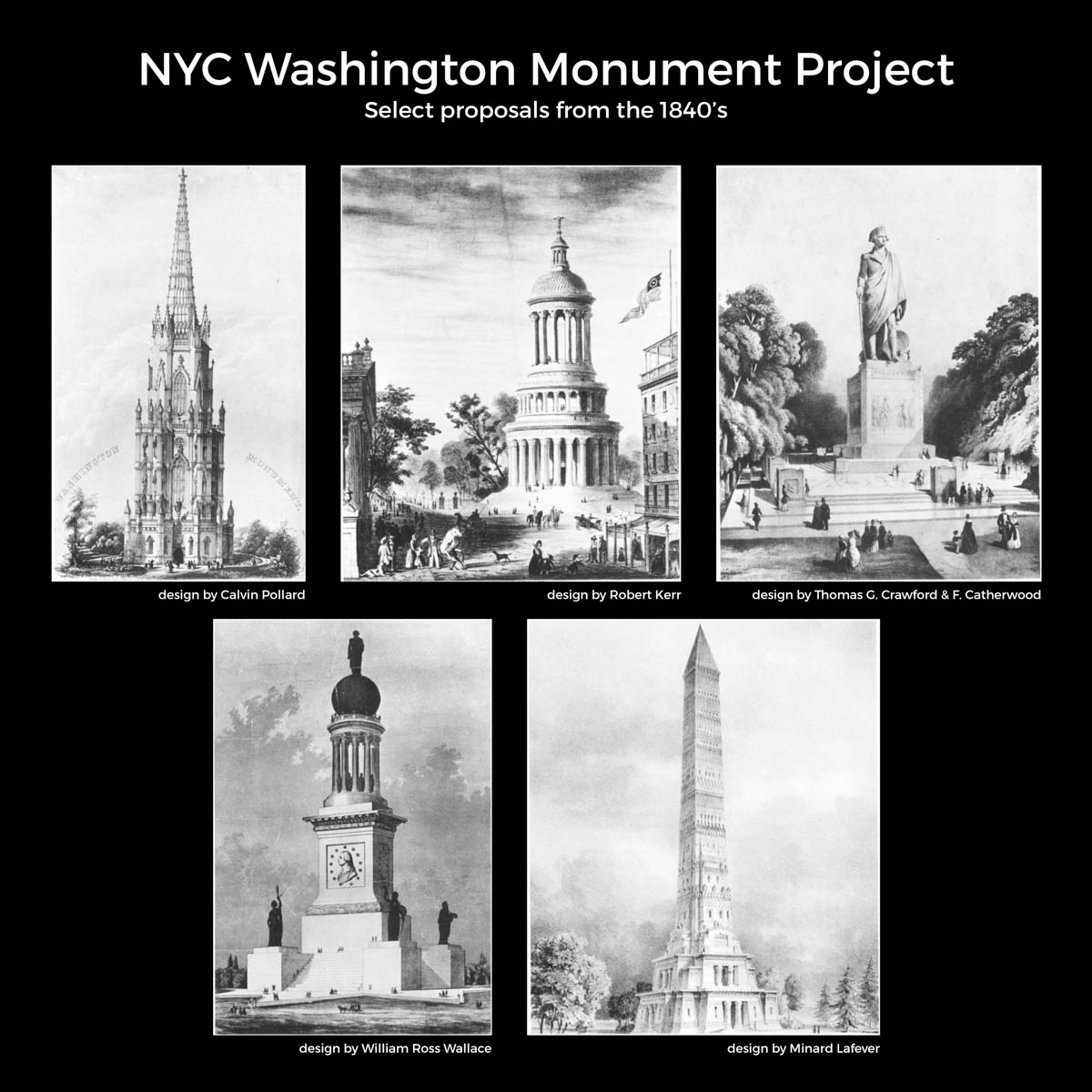 Independence Day stirs thoughts in me about the visual aesthetics of the United States and the role artists, architects, and designers play in constructing American visual identity. I've always been fascinated at how so much of American architectural style is based on Classical proportions.
Today I read about the NYC Washington Monument Project from the 19th Century. Numerous proposals were designed by a range of architects in the mid 1840's. The initial proposal was by Calvin Pollard and Gothic in style, a style described by John Frazee as "foreign to free enlightened Republican people." Other architects offered alternative designs of various Gothic, Neo-Classical, and even Egyptian influence. While the selection of designs I've shown here are vastly different in character from one to another, they all do share a certain unity of thought with Robert Mills's Washington Monument in Washington, D.C., upon which construction began in 1848. Mills's simpler form (when compared to the NYC project proposals) anticipate Modernism's clean lines while the obelisk form itself echoes not only Ancient Egypt but the great Egyptian obelisk's so adored in Ancient Rome as well.
The visual identity of America is firmly connected to the ancient world, the great foundations of modern Western civilization. In more recent years our aesthetics have evolved, embracing more original forms that are less attached (but still indebted) to the past. Look at more recent memorials such as Lei Yixin's MLK Jr Memorial, Lawrence Halprin's FDR Memorial, and Maya Lin's Vietnam Veterans Memorial. These designs reflect a more forward-thinking culture. We are no longer concerned with creating the aesthetic foundations of a new country and are now free, instead, to embrace the rich diversity of the American people—a diversity envisioned by our founders—with new aesthetics and new designs. Our memorials—whether national, regional, or local—not only remember the past but aid us in creating a new future. I can only imagine who and what one day will be memorialized from 21st Century America. Will future designers create new aesthetics that we cannot even fathom now? I do hope so.
As for NYC's Washington Monument, though Minard Lafever's design was the chosen winner, it was never constructed. The city's first memorial to Washington finally came about in 1856 in a much more modest form. On 4 July, Henry Kirke Brown and John Quincy Adams Ward's equestrian statue of the great president was unveiled in Union Square, where it stands to this day.