I'm so excited to announce the newest publication from bd-studios.com. Puertas Españolas is something a little different than anything else you'll find in the bd Library. It's a suite of short poems by Josemaria Mejorada and May Gañán paired with a set of photos I took of various doors while traveling in Spain. Doors are a very interesting part of buildings. I encountered so many unique doors wandering around the streets of Madrid, Toledo, Segovia, and Seville. I decided to publish the images as a set of postcards–but I wanted another voice to work with the images as a counterpoint. Josemaria and May's poetry is the perfect accompaniment. The poems are not about the images, but, rather, they exist as another layer, providing a glimpse into another world. When we pass through doors, we enter new places, new spaces, and new environments. Josemaria and May have helped me transform these Spanish doors into portals to a realm of poetry. I hope that you will open each door to discover the worlds that await you. The set is very limited. Contact us if you are interested to obtain a copy.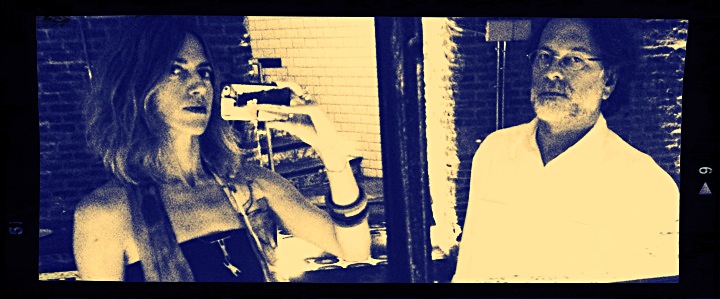 Josemaria Mejorada
Periodista, músico, escritor e ilustrador. Ha desarrollado su carrera periodí­stica en Prensa, Radio y TV, en los ámbitos de la Información y la Cultura. Ha publicado una novela y varios libros de relatos ilustrados (algunos de ellos con May Gañán). Compositor compulsivo, actualmente forma parte del grupo de pop-folk-rock The Peppers, cuyo último trabajo ("A Very Pleasant Day", 2016) puede escucharse en Spotify.
Journalist, musician, writer and illustrator. worked as a journalist for the Press, Radio and TV, mainly in the News and Culture fields. He published a novel and several illustrated short stories books (some of them with May Gañán). Compulsive composer, at the moment he's a member of the pop-folk-rock group The Peppers , whose latest release ("A Very Pleasant Day", 2016), can be listened to on Spotify.
Visit Josemaria's website at jmmejorada.wordpress.com.
May Gañán
Periodista con más de veinte aí±os de experiencia en los Informativos del canal de televisión espaí±ola Telecinco. Especializada en arte contemporáneo, cultura y tendencias. Escritora con tres libros publicados, dos de ellos en colaboración con Josemarí­a Mejorada. Creativa, ilustradora y fotógrafa de poesí­a visual de la cotidianeidad. Diseí±adora de joyerí­a contemporánea y creadora del blog www.masqmay.blogspot.com.
Journalist with more than twenty years of experience in the news of the national Spanish broadcast Telecinco. Specialized in contemporary art, culture and trends. Writer with three books published, two of them in collaboration with Josemarí­a Mejorada. Creative, illustrator and poetic photographer of the everyday. Designer of contemporary jewelry and curator and founder of the blog www.masqmay.blogspot.com.
Visit May's website at masqmay.com and follow her on Facebook, Twitter, and Instagram.