FOR IMMEDIATE RELEASE — Dec 2015
BD-STUDIOS.COM LAUNCHES WEBSITE REDESIGN
FEATURES NEW WORK BY LUKE KURTIS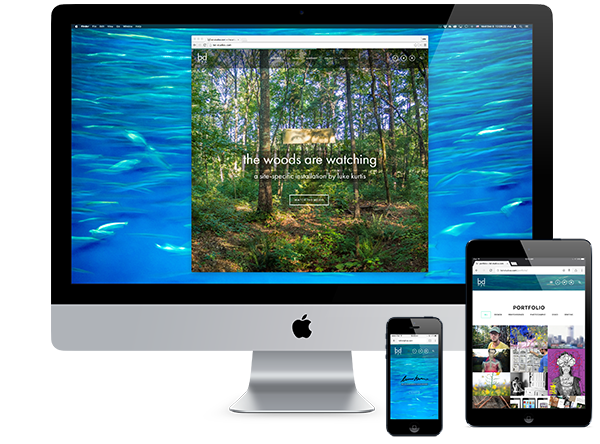 bd-studios.com is pleased to announce the launch of our new website. The website was first launched in 1999 and has evolved over the last 17 years to become the fully formed art and publishing studio by luke kurtis. The new design brings the website up-to-date with current web standards and puts our work at the forefront of our web presence more than ever before. The front page features bold imagery relating to various work by the studio. The Portfolio section sports an improved design with dynamic layouts and dives deeper into our work and showcases major projects. The Library, originally launched in early 2014, has also received an update and presents a full catalog of all the publications and multiples we have released over the years. The Blog features news, announcements, new projects, and work-in-progress. Please visit the website at https://bd-studios.com.
Among our most recent projects highlighted on the website is the woods are watching. This piece, part of the Crayon Portraiture project, is a site-specific installation work and also a short video of the same name. "On one level the piece is about looking at technology as an extension of our humanity instead of something that exists separate from us", says luke kurtis, creator of the woods are working and founder of bd. "It's also about the importance of taking pause in the midst of our busy lives. Stop, look, and listen to your surroundings in a deliberate way: you might be surprised what you notice." Composer and performance artist Michael Harren, who recently spoke with kurtis about the woods on his Mikeypod podcast, described the piece as "breathtaking in its simplicity."
kurtis's experimental video art and performance art project journey is also featured on the site. "The journey project has the same meditative approach as the woods piece in that it poses questions about how we interact with the environment around us," says kurtis. "But the performative aspect sets it apart. I really like thinking about how walking is a practical act, something we do to get from one place to another, yet this most basic everyday action can also be an act of meditation and a way to connect more deeply with not only the world around us but also our inner selves." As an ongoing project rooted in the artist's world travels, we will continue to develop content for the website to represent the journey work.
The Library section of the site documents the publishing history of bd, including titles such as The Language of History by luke kurtis, Jordan's Journey by Jordan M. Scoggins, Tentative Armor by Michael Harren, Visions of the Beyond by Stefanie Masciandaro, and several other publications and multiples. Many titles are available for purchase.
The bd website is online now at https://bd-studios.com. We also maintain a social media presence at Facebook page (https://www.facebook.com/bdstudiospage/), Twitter (https://twitter.com/lukekurtis), and Instagram (https://www.instagram.com/lukekurtis/).
bd-studios.com is the art and publishing studio by luke kurtis. We publish artist's books and exhibition catalogs, organize exhibitions and performances, and more. We perform creative experiments and transform them into bold works of art.
luke kurtis is a Georgia-born interdisciplinary artist focusing on the intersection of photography, writing, and design. He lives and works in New York City.
For more information, please contact us (https://bd-studios.com/contact/).
###